Welcome to Sage Wellness and Massage, LLC
Helping your body heal itself since 2002.
Deborah Blais, LMT, Owner NH Lic#1999M
37 So Spring St, Concord, NH
603-620-8690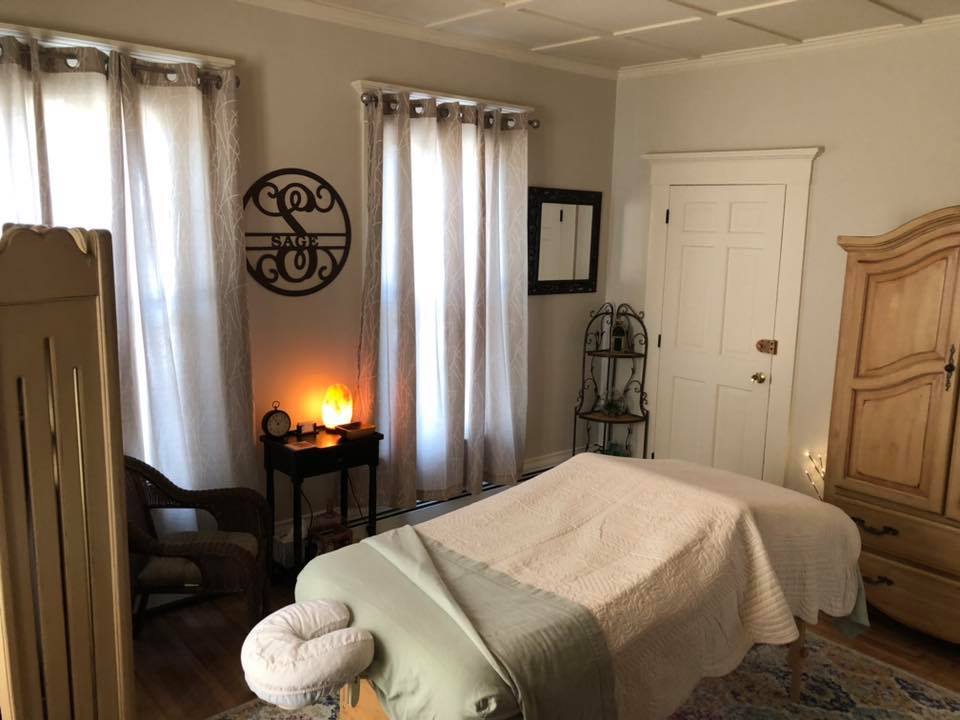 COVID-19 NOTICE
We are open! We have received guidance from the Governor's Economic Reopening Taskforce, Federation of State Massage Therapy Board, Associated Bodywork & Massage Professionals and the Center for Disease Control that we utilize and practice with every client so that we may work with you in a safe manner. (Yes, lots of guidance because you matter!)
The CDC indicates that the following underlying conditions place people at higher risk for severe illness from COVID-19. At this time, we will not be treating anyone, unless vaccinated, who have any of these conditions:
65 years old or older
Or with;
Chronic lung disease
Moderate to severe asthma
Heart conditions
Compromised or suppressed immunity
Severe obesity (body mass index of 40 or higher)
Diabetes
Chronic kidney disease
Liver disease
We feel badly that this is the case, however, we need to adhere to the guidelines given to us for your safety. We really care about you!
Feel free to call, text or email us if you would like to book an appointment. As you can imagine, there will be some changes. Here is what you can expect before, during and after your massage session:
Within 24 hours of your massage appointment, you will receive a call or text from your therapist and asked a few screening questions. This call is a good time to let your therapist know of your needs.

Please arrive at the time of your appointment and no earlier. We need ample time to disinfect the massage room, bathroom and entrance area before and after each client.

You and your therapist must be wearing a clean facemask (cloth or surgical) when entering and at all times while in the building. If you do not have a face mask, we will provide you with a disposable one. While you are prone, facedown, in the face cradle, your mask will be off and a "hammock" (pillowcase) will be carefully placed to capture any respiratory droplets.

We will be taking your temperature upon your arrival. Anyone with a fever of 100.4 or above, will need to reschedule their massage session.

We ask that you sanitize your hands when you enter the building and before you leave the massage room. Hand sanitizer will be available to you.

Friends and family are not allowed to wait in the waiting area. The waiting area is essentially closed.

Talking will be limited to communication about pressure, warmth and comfort during the massage session due to the increased respiratory droplet disbursement during conversation. Your screening phone call will be a good time to communicate your needs to your massage therapist.
We look forward to seeing you! Feel free to call, text or email us with any questions you may have.
Massage Therapy
-Relieves muscular tension and pain
-Reduces adhesions and scar tissue
-Improves circulation which provides vital nourishment to the organs improving immune system function
-Reduces blood pressure
-Improves joint flexibility
-Promotes relaxation and stress reduction through the release of endorphins, the bodies natural "feel good" hormones
-Reduces mental and physical fatigue
-Recent studies show, receiving a one hour massage is like getting 7-8 hours of sleep!
For your good health, choose therapeutic massage!